Hi fellow youtubers & friends. Yes I have opened my pocketbook this past few weeks. (The guy that said the recession hit me is pretty quiet now lol) ... anyways I was saying I believe in blogtv episode that I was going to get Bond's & Creed's at a slower pace and get other niche houses while still trying to finish my Bond and Creed collections... (yes I want almost all of them) this time I got my Bond's on fragrancenet.com (ugh) I used the code Tim9 (lol just joking Tim) I used the code on the site that actually gave me 15% off which was pretty good. My last purchase from that website was so disapointing that I have not used them in over a year and I can't vouch for them. The packaging was sloppy , the bottles have been opened and sprayed once or twice at least ( probably they sent me a returned bottle from another customer) so I was not impressed and looked elsewhere, well I will give them another chance by buying 2 bond bottles. I also went on the Frederic Malle website today and got myself a treat. Let's check this out :
The Scent of Peace by Bond No 9
I was looking around to get more Bond's but it's hard buying blind with a company like Bond since they aren't cheap and I try to look at the note breakdown , see what others are saying then buy it. Well the whole Bond line is hard to do this since everyone says oh it smells like this Creed or that Creed and that's all they have to say about Bond's. I decided on this one for a few reasons. One the perfumer is Michael Almairac which is one of the best in the business. Alot of people are saying that this has a strong Peach note, which caught my eye. I know this is going to be a summer scent and hopefully it does well.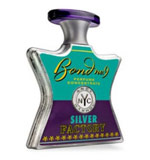 Andy Warhol's Silver Factory by Bond No. 9
This one was easy to choose. It was my first choice for my next bond. I like daring scent's and this one has that all over it., did someone say incense ??? Hell ya !!! This is going to be one of my most exciting blind buys for me to unwrap (hopefully fragrancenet does not screw it up) . I was thinking of getting Chez Bond, Wall Street, Montauk (hard to find online) & Riverside Drive but those will have to wait till next time.
Bigarade Concentree by EDP Frederic Malle
I totally squeezed all the juice out of my sample and did not notice until I grabbed for it today and it was all gone :( I was so sad that I went on the Frederic Malle site and ordered it right away. What can I say about this ? Well it's a JC Ellena fragrance so that seals the deal, right ? No but it helps. This I was scared to try because I loved it but heard horror stories on the longevity, well where I am right now it's hot so hot I can fry a egg on my head. This one shines in the heat, and I mean the real heat. When it's hot this thing lasts (yea I said it) , when it's cooler and your not sweating then yes this thing will run away. I love this , probably not the best for Canada weather but I might bring it with me on my travels to LA or Florida or even Egypt when I go there.