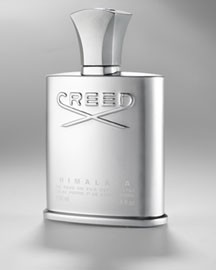 Well some would say it's about time. After about a year of pondering price, brand and scent I have finally taken the plunge. I bought my very first bottle of Creed, I chose Himalaya as my first scent of the brand, trust me it won't be my last bottle from Creed, I am just getting started. It's been long overdue, niche is an expensive way to go but I believe I need to smell the best that the world has to offer.
If you don't know what niche is , the best way to describe it is in my words it's like Hip-Hop. We have the maintream artists like Jay-Z , DMX etc they are the brand names and they buy the audiance with advertising getting the best fragrance heads to make the juice but it seems so unpersonel. Niche is like the underground hip-hop, where not many people listen to them and true hip-hop heads think is the best of the best. So niche is like the more expensive but less known , and all the scent snobs think it's the best.
Either way niche fragrance usually use better products in there scents , hence the larger price tags. I can't wait to get my new bottle of Creed , and I am still looking to buy my very first bottle of Bond no.9 fragrance.